Everwear Cutting Modules
Precision Cutting Solutions in Motion
To view this 3D File:
Click on the PDF icon. A PDF reader will open.
Download the file to your computer from the reader.

Go to downloaded documents on your computer.

Open the file with Adobe Acrobat Reader.

Enable the 3D content to view the file in 3D.
What separates Everwear cutting modules from the others?
Precision Cutting Solutions focuses on reliability, speed, and productivity. Everwear cutting modules are designed from the knife out. This means every specification, material selection, and feature on an Everwear module is created to optimize the performance of the knife. The result is less downtime for knife changes and adjustments, which means higher productivity.
Machine Builders can elevate their converting machine's overall performance to a new level by including an Everwear cutting module in thier design. This increased performance is an impressive return compared to the relatively small cost increase of upgrading to an Everwear module. Everwear's integrated design philosophy maximizes knife life, greatly reducing costly downtime. This gives customers who are looking for fast, reliable cutting everything they need in a low maintenance platform.
The perfect solution for Producers with existing lines that need to upgrade their function is an Everwear cutting module. Whether the need is to replace outdated crush-cut technology or a new product requires a different module, Everwear will customize a cutting module to help realize your production goals.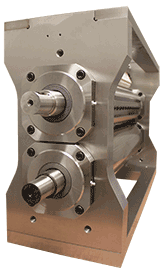 Precision and Performance Are Standard.
Standard Features on all Everwear Cutting Modules:
Premium roll materials resist corrosion and absorb impact to increase knife life
Precision ground pockets are flat within .001"/.025mm
High performance flex cutting with knife material specified for your application
Integrated design of knife & holding components
Precision ground components with design optimized for maximum knife life
Precision spherical roller bearings with hardened, high chrome housings standard on large & medium modules
Small modules use sealed bearings in precision stainless bearing blocks
Premium stainless frame material
Side frame bores positioned & straight within .0004"/.010mm for exact knife-to-anvil presentation
Critical surfaces toleranced and perpendicular within .0005"/.013mm